Diego Velazquez - Artist Biography with Gallery
Diego Velazquez was a Spanish painter from the 17th century who left behind him a strong artistic legacy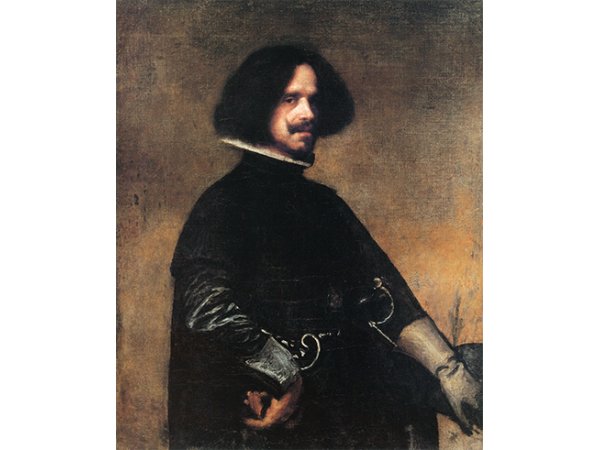 Velazquez is still very much appreciated today through the exihibitions of his work that continue around Europe and North America plus the number of artists who continue to follow in his footsteps, inspired by the achievements of his career.
This website goes into great detail on the life and works of Diego Velazquez and includes large numbers of his best known paintings.
Las Meninas remains undoubtably the most famous work from the career of Diego Velazquez but there remains many more that are worthy of note, particularly when considering the overall impact of the artist on other painters who came after Velazquez in the centuries that followed.
Most notably, Velazquez's best paintings became figures of study for many realist and impressionist paintings of the 19th and 20th century, citing Velazquez as one of the key painters to take inspiration from.
Diego Velazquez paintings fit loosely into the art movement of Baroque which followed closely after the renaissance periods which had spread across Europe, changing art forever. Velazquez was an artist who whole life and career was firmly rooted in Spain and he rarely went beyond the boundaries of his native country.
Diego Velazquez was very well connected within Spanish society and these ties meant he had little need to go elsewhere, with all financial strains easily covered with large commissions which were offered to him thanks to his high ranking friendships and connections. His position of court painter was later taken up by fellow master Francisco de Goya.
Velazquez was the star of the Spanish Golden Age, thus placing him alongside the likes of Caravaggio, Michelangelo, Leonardo da Vinci and Rembrandt.
These related parties included the Spanish royal family, of whom Velazquez would produce many portraits over a long period of his career and these are amongst his best known.
Las Meninas
Las Meninas is shown above and is the most frequently reproduced of any Diego Velazquez painting, with large number of copies being made for his many fans right across the world, normally in the forms of framed or unframed art prints, stretched canvases and posters although there is an almost endless number of options from the many online art reproduction companies.
You will find links in this website to Art.com who we use for Diego Velazquez reproduction prints that are offered at affordable prices.
Las Meninas was created in 1656 and now is held on display at the Museo del Prado in Madrid. There remains much controversy and confusion surrounding this painting which has only added to it's mystic nature and many continue to study it even today, trying to answer certain questions about it which still exist.
There remains questions over where the reality lies within this painting and whether the artist has added considerable elements from his own mind to complete the work, which would have been particularly unusual at that time.
Old Woman Frying Eggs
Old Woman Frying Eggs is another well respected work by Baroque painting Diego Velazquez and that can be seen above alongside links to where you can buy your own print copy. Besides the paintings included within this website, there are also many others worth checking out if you have the time, and for that reason we include a full list of major works from his career further down the page.
Diego Velazquez will probably be best remembered for two things, firstly his inspired Las Meninas painting but also his series of accomplished portrait works that carried on right throughout his career, and is probably his signature type of work. Those included within his many portrait paintings included Juan de Pareja, Pablo de Valladolid, Pope Innocent X, Duke de Olivares and many member of the Spanish royal family.
Crucifixion
Crucifixion is an inspired religious depiction from Velazquez, and perhaps his finest work from this genre.
There were several other religious scenes in paintings from this artist across his career, but he was much more varied and innovative than most other painters who were around during this baroque period which was lesser known than the renaissance but still gave the art world several very important painters, such as Velazquez and El Greco.
In recent years there have been new findings from the artist's career with paintings restored to their former glories, and uncovering the hallmarks of this painter as a result.
The length of time that has passed since his career and life ended means there is a lack of information available but fortunately there still remains enough to put together a complete biography of his life plus a reliable catalogue of all his paintings.
In recent years several Velazquez paintings have re-appeared in new forms with added creativity from modern artists who want to show their appreciation of this master. Such artists have included Salvador Dali, Pablo Picasso and Francis Bacon.
List of Famous Diego Velazquez Paintings
Please see below for a summarised list of the best Diego Velazquez paintings that are featured throughout this website.
Apolo en la Fragua de Vulcano
Christ in the House of Martha and Mary
Cristo crucificado
Democritus
El Triunfo de Baco (Los borrachos)
Equestrian portrait of Duke de Olivares
Esopo
Imposición de la casulla a San Ildefonso
Old Woman Frying Eggs
La reina Isabel de Borbón a caballo
Las Hilanderas (The Fable of Arachne)
Las Meninas
Mars Resting
Menipo
Mercury and Argus
Portrait of Count Duke of Olivares
Portrait of Duke de Olivares
Portrait of Innocent X
Portrait of Juan de Pareja
Portrait of Mother Jeronima de la Fuente
Rokeby Venus (La Venus del espejo)
The Surrender of Breda
The Adoration of the Magi
The Lady with a Fan
The Lunch
The Waterseller of Seville